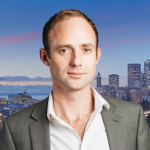 Kevin Dares
Real Estate Broker
The NXNW Team:
As a New Orleans native, I witnessed first-hand the redevelopment of this landmark area post-Hurricane Katrina. Investors were purchasing properties and working diligently with the city to redevelop them in the face of high housing demand while trying to maintain the character of this historic treasure.
When I moved to Seattle in 2012 to be closer to my daughter, I took note of the post-recession flurry of building activity to satiate the housing needs of a growing economy and noted there was strong potential for investors here too. In business with my brother, we made our pet project The Castle, a historic 49-unit building in Belltown that was constructed as a hotel in 1918. We took on the project of restoring, renovating, renting, and managing the units. The feedback from the tenants has been amazing.
In my opinion, as Seattle grows, maintaining its character is important. There is a large contingent of travelers who don't want to stay in a big polished hotel. Think about it – if you were traveling through England, would you rather stay at a corporate hotel that you can stay at back home, or would you rather stay at a tavern or at a small European hotel with old-style keys and a manager who is also the local concierge? Developing boutique hotels from historic structures is a passion project of mine.
I am well-versed in all types of property management and look forward to help you manage and strategize with your investing dollars.
Kevin's Expertise and Experience:
Castle Apartments in Belltown – restoration, renovation, renting, and management