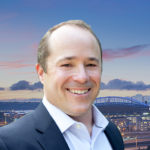 Steve Clark
Real Estate Broker
The NXNW Team:
I get a lot of satisfaction in working with clients to find the right space for their business, assisting with purchasing and leasing, and helping people sell their businesses and real estate assets for top dollar.
While working in mobile wireless, I traveled extensively. Everywhere I worked, I studied the real estate markets as a hobby. Real estate has always been a passion of mine, from finding the right spots to build cell sites to seeing commercial property developments in different cities around the world.
I garnered a number of different skills while working in mobile – app development, account development, new technology deployment, and collaborated with research and development. I closed some of the largest deals in the company history, double revenue for some accounts, partnered with customers to define their critical needs and then molded the products to meet those requirements. I developed a number of strategic relationships along the way and connected solutions for problems.
I feel lucky to have turned those skillsets into a career as a Real Estate Broker serving commercial clients by leasing retail and office space, representing tenants. I also work with seasoned investors, new investors, and those in need of professional property listing as well as listing and marketing land developments in a way that allows developers to easily see the potential of a property.
I look forward to helping you develop your investment plan.
Steve's Expertise and Experience:
Member of the Commercial Brokers Association